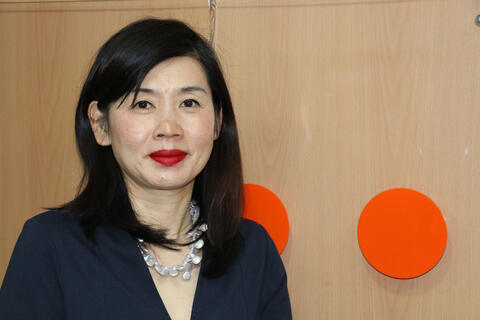 Kaori Ishikawa, Head of Office for UNFPA Mongolia Country Office
Kaori Ishikawa assumed her assignment as Head of Office for UNFPA Mongolia CO on 20 November 2018. She comes with 20 years of extensive experience managing peace, humanitarian and development programmes as well as policy and advocacy work in over 20 countries.
Prior to her assignment in Mongolia, she served in a number of UNFPA Country Offices and Sub-Offices with large and complex operations, including Lao PDR, Yemen, Indonesia, Afghanistan and Myanmar. She also served in UNFPA Arab States Regional Office (ASRO) in Cairo and Gender, Human Rights and Culture Branch of Technical Division of UNFPA HQ in New York as Gender Specialist.
She has also worked with the United Nations Environment Programme (UNEP) and the Japanese Organization for International Cooperation in Family Planning (JOICFP) in Japan.
Kaori is a national from Japan and holds a Bachelor's degrees in Sociology, with specialization on social welfare policy on aging population from Ritsumeikan University, Japan; a Diploma in Development Studies from the University of East Anglia, UK; a Master's degree in Women and Development from Institute of Social Studies in the Netherlands; and a Master of Business Administration at Warwick Business School in the UK.
UNFPA Mongolia Country Office
UNFPA Mongolia began supporting the Government of Mongolia in the late 1970s providing equipment and training to the Central Statistics Office to undertake the Population and Housing Census of 1979 – and again in 1989. Support to maternal and child health began in the early 1990s and included training for medical personnel and the provision of modern contraceptives.
The first comprehensive Country Programme between the Government of Mongolia and UNFPA officially started in 1992 and focused on the delivery of family planning services and information and the promotion of population data use to support government development policies and programmes.
In 1998, the UNFPA Country Office was established in Ulaanbaatar with a Representative in residence, and in 2002 a regional sub office (RSO) was opened in Khovd. The RSO's primary focus is to increase community outreach and facilitate the delivery of technical and programme support to priority provinces in the western region.
At the end of 2016, UNFPA's 5th Country Programme – which provided support in the areas of sexual and reproductive health and rights, youth development, gender equality and population dynamics – came to a close. This coincided with the conclusion of a decade of support to the people of Mongolia to accelerate progress towards the Millennium Development Goals (MDGs). UNFPA's support focused on realizing MDG 3 – equal rights for women and men; MDG 5 – reducing maternal mortality; and MDG 6 – combating HIV/AIDS. By the end of 2015, Mongolia had achieved marked success in attaining MDG 5 in particular, being one of only nine countries that successfully met targets to reduce maternal mortality by 75 percent.
UNFPA's 6th Country Programme in Mongolia – covering a five-year period – was launched in 2017, with a specific focus on youth participation, realizing the sexual and reproductive health and rights of youth, and addressing GBV. The current Country Programme is supporting Mongolia to achieve the SDGs and is closely aligned and implemented with other UN agencies under the UN Development Assistance Framework (UNDAF) 2017-2021.
The UNFPA country office in Mongolia, led by an International Head of Office, has 30 employees, including a National Liaison Officer who is based in South Gobi province. UNFPA's operations cover all 21 provinces in Mongolia.