You are here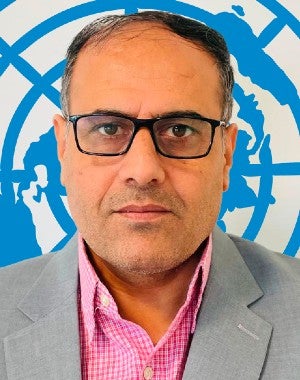 Khalid Sharifi
Khalid Sharifi, an Afghan national, is a Medical doctor, graduate from Kabul Medical University. He holds a Master's Degree in Public Health from Royal Tropical Institute/VU University in Netherlands and Post Graduate Diploma in Health Care Management from the Swiss Tropical and Public Health Institute/Basel University in Switzerland. 
Khalid Sharifi has been serving the UNFPA since 2015 in various roles, including Planning, Monitoring, and Evaluation Specialist in UNFPA Afghanistan, UNFPA Assistant Representative in Afghanistan and Deputy Representative a.i in the absence of the Deputy Representative. 
Before joining the UNFPA, he has served in Afghan NGOs in implementing the Primary and Secondary Health Care program in Afghanistan in the capacity of Managing Director, Health Director, and Program Manager for more than ten years. 
In addition, Khalid has worked in the International Federation of Red Cross and Red Crescent Societies (IFRC) and the Afghan Red Crescent Society for nine years. Khalid also practiced clinical medicine at Kabul National Hospitals for four years as a pediatrician.
Operational research is a favorite field of work for Khalid. During the past 15 years, Khalid participated as a principal/co-researcher in Afghanistan's public health operation research/program evaluation series. He contributed to the public health research of Afghanistan as a member of the national Institutional Review Board (IRB).
Khalid brings 22 years of experience leading and administering development and humanitarian operations from grassroots to national level. Driven by the power of data, he is passionate about using evidence-based results to conduct public advocacy and high-level policy dialogue to influence decision-makers on the necessity of reproductive and sexual health, reproductive rights, youth development and gender equality for sustainable development.