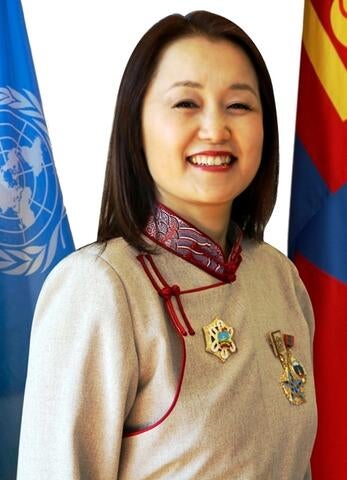 Ulaanbaatar , March 28–Last week,  Naomi Kitahara, UNFPA Mongolia Country Representative, received an unprecedented honor and was awarded with the Order of AltanGadas (Order of the Polar Star) pursuant to Decree 43 of the President of Mongolia in recognition for her work and contribution towards the development of the country. Ms. Kitahara was nominated to receive this by the Parliamentary Standing Committee on Social Policy, Education, Culture and Science. The prestigious award is the country's highest honor ever accorded to non-Mongolian nationals.
Ms. Kitahara accepted the award last Tuesday in a ceremony at The Government Palace, at which she said, "I wish to thank the President, the Parliament, the Government, and the people of Mongolia for the honor." She took the opportunity to say that this was all made possible by her staff at UNFPA. "Without their support and hard work, this would not have been possible. I share this honor with them," she said.
The UNFPA has been in partnership with the government of Mongolia since the 1970s and is currently implementing its 6th Country programme. Ms. Kitahara began her posting in Mongolia in July 2013, following a notable career with UNDP, UNFPA and JICA, and having served in various postings in Africa and at the Headquarters in New York.  Recent accomplishments of the UNFPA in partnership with the government, NGOs and the private sector under the helm of Ms. Kitahara's leadership include the following, to name a few:  approval of the Law to Combat Domestic Violence (LCDV) in the country last December 2016; Mongolia's achievement of reducing its maternal mortality rate by 2/3 and being one of only 9 countries in the world to hit those targets in pursuit of the Millennium Development Goals by 2015; and the establishment of 16 Youth Development Centers to cater especially to underserved youth in disadvantaged communities across the country in partnership with the Swiss Agency for Development and Cooperation, the Government of Luxembourg and OyuTolgoi LLC.
UNFPA seeks to deliver a world where every pregnancy is wanted, every childbirth is safe and every young person's potential is fulfilled. Rest assured, this commitment remains. "We at UNFPA will continue to strive and fulfill our mandate, working for the welfare and rights of women, girls and young people in Mongolia," said Ms. Kitahara.
---------------------------------------
About UNFPA (www.mongolia.unfpa.org)UNFPA is the UN agency delivering a world where every pregnancy is wanted, every childbirth is safe and every young person's potential is fulfilled. UNFPA Mongolia currently implements the 5th Country Programme 2012-2016, closely in line with the United Nations Development Assistance Framework for Mongolia.
Contact: Angelica Esguerra, UNFPA, 353505 (ext. 3314), esguerra@unfpa.org