Ulaanbaatar, Mongolia – UNFPA and the Government of Mongolia, in collaboration with local NGOs and other UN agencies, celebrated International Women's Day (IWD) with a month-long campaign with the theme "#БИ ...БАЙНА" ("Choose to Challenge").
The nationwide campaign, which ran from 5 to 31 March 2021, encouraged people to challenge harmful gender stereotypes and biases that not only limit the opportunities of women professionally and personally, but are also the root cause of gender-based violence (GBV). The campaign also celebrated women from all walks of life who have shown exemplary leadership, especially in the context of COVID-19 response and recovery.
An extensive social media campaign was rolled out in collaboration with the National Committee on Gender Equality (NCGE), National Police Agency and Ministry of Labour and Social Protection, which included videos, podcasts, and other visual content that challenges prevailing gender stereotypes and offering healthier alternative attitudes and beliefs. Individuals and organizations, including prominent celebrities, also joined the campaign by sharing their own pledges to challenge gender stereotypes online using the "#БИ ...БАЙНА" materials. Posters and other advertisements were also strategically placed in public places that the people are still able to readily access even during lockdowns, such as apartment complexes, ger district compounds, supermarkets, pharmacies, petrol stations, etc.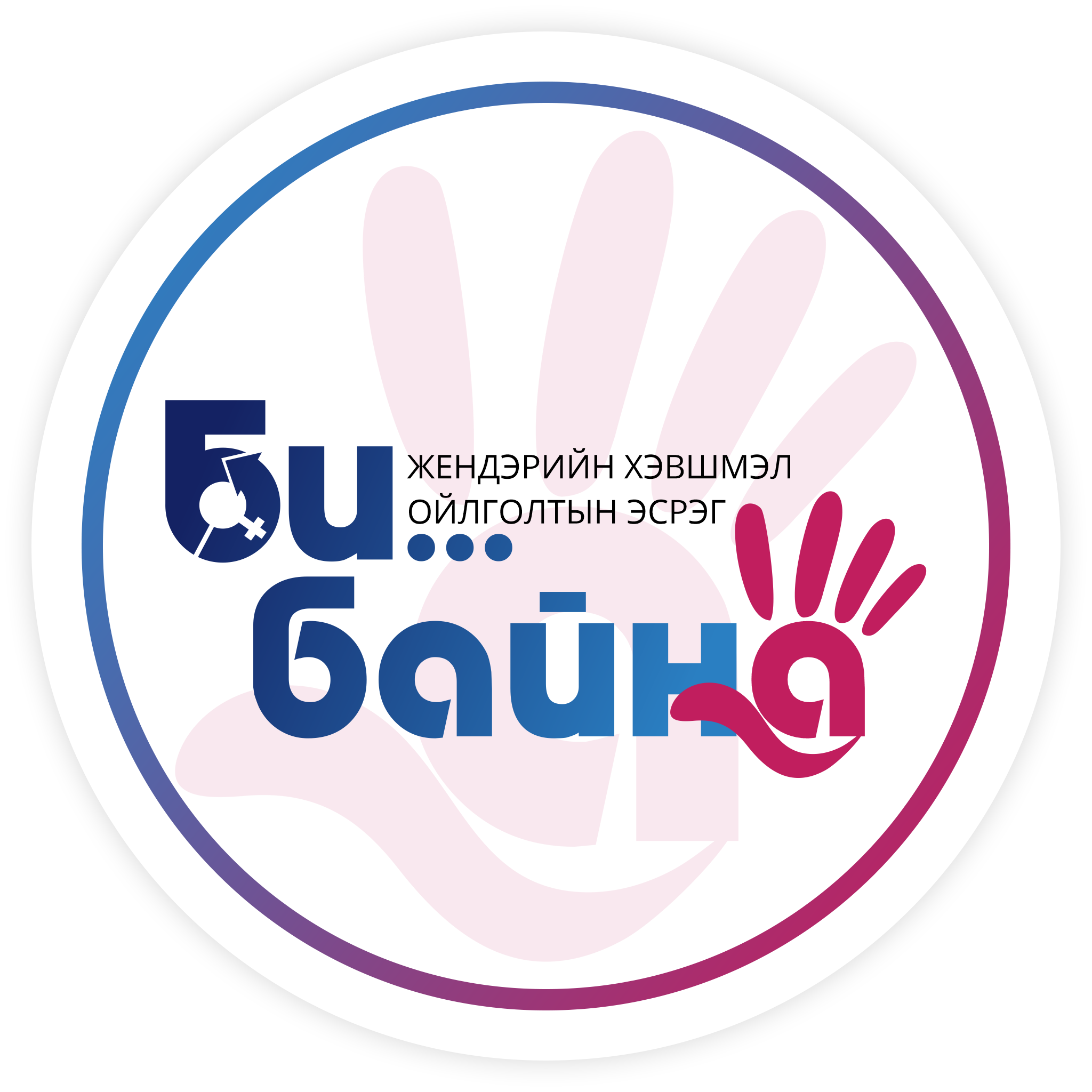 In cooperation with MNB Family, a series of video spotlights was produced to share the stories of 8 everyday Mongolian women who have shown excellence, resilience, and leadership during the pandemic, while a show entitled "Women" was produced and broadcasted on SBN TV. An online discussion on protecting women's rights and preventing discrimination was also held and shown on national TV and social media.
"Women carry a heavier burden than men in terms of balancing their work and their home life," said A. Ariunzaya, Minister of Labour and Social Protection. "Although women and men both have the opportunity to contribute to the development of the country, in reality, women have less opportunities than men due to their biological responsibilities, such as carrying and deliveries, feeding and caring for babies, as well as other domestic responsibilities traditionally assigned to women."
The campaign also leveraged on the occasion of Mongolian Military Day (18 March), which has been celebrated as Men's Day in recent years, to engage men and boys in efforts to address toxic masculinity and to end GBV. This initiative was spearheaded by NCGE in collaboration with NGOs and other local experts. A survey on the relationship between toxic masculinity and GBV was conducted and presented, while a short video on the topic was developed by the Men, Families and Child Development Association and shown to perpetrators of violence. Several segments highlighting the impacts on gender stereotypes on men's personal and professional lives were broadcast on national TV channels. Various videos and other visual content that featured men were also distributed throughout social media as well as posted in public places throughout Ulaanbaatar.
Altogether, the campaign reached 6.9 million people/times across the country throughout its month-long run.
IWD is a global celebration held on 8 March every year with the aim to highlight the social, economic, cultural and political achievements of women, while also urging the public and decision-makers to accelerate progress toward gender equality and ending all discrimination against women and girls (SDG 5). This year, the global IWD theme is "Choose to Challenge", which aims to break prevalent gender stereotypes that are harmful to both women and girls. The UN also took on the theme "Women in Leadership: Achieving an equal future in a COVID-19 world" to celebrate the invaluable contributions of women and girls in the response and recovery efforts during the pandemic. Mongolia's local IWD campaign draws inspiration from both themes.
"This year's IWD theme aims to convey the message that we can all choose to challenge and to call out gender bias and inequality while acknowledging and celebrating women's achievements in society," said Kaori Ishikawa, UNFPA Mongolia's Head of Office. "Collectively, we can all help create a more inclusive world."