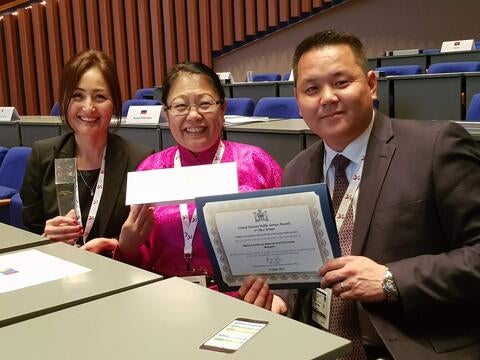 The Hague, June 23, 2017 -The National Center for Maternal and Child Health(NCMCH) of Mongolia received the prestigious United Nations Public Service Award (UNPSA) garnering  1st place in the category of "Innovation and Excellence in Delivering Health Services" for their work in implementing the Telemedicine Project in Mongolia. The NCMCH is one of 8 first place winners, selected from 552 nominations, and one of the 12 institutions from 11 countries to be recognized at the UNPSA 2017 for public service projects and initiatives aligned with the 2030 Agenda global Sustainable Development Goals.
With the joint support of the Government of the Grand Duchy of Luxembourg, UNFPA and the Government of Mongolia, the Telemedicine project established a network of medical professionals and maternity hospitals countrywide, connecting them to the NCMCH in Ulaanbaatar, Mongolia's capital. Through this network, pregnant women in remote rural areas of Mongolia were able to receive expert consultation and life-saving care, all without the burden of travelling to the Ulaanbaatar city or exhausting their resources in the effort. As a result, the Telemedicine project has helped over 1,800  women with pregnancy complications since its launch in 2007. In 2016 alone, over 58.4 % of cases of direct obstetric near misses consulted through the network.  Most notably, the project significantly contributed to the overall reduction of maternal mortality in the country by 2/3, making Mongolia one of only 9 countries in the world to reach its targets for the Millennium Development Goals by the end of 2015.
Apart from enabling early detection and timely management of pregnancy complications nationwide through tele-consultation afforded by the network, training opportunities for medical professionals across the country were also made more widely available. By the end of the project, 70 % of all gynaecologists and obstetricians working in Mongolia on emergency obstetric care had received training through the Telemedicine project. In July 2016, Luxembourg's Prime Minister, H.E. Xavier Bettel, appreciated firsthand the accomplishments of the Telemedicine project at the NCMCH-  a visit  which culminated in the extended agreement for the Government of Luxembourg to support the Exit Phase of the project from 2017 to 2019.
"We extend our sincerest congratulations to the NCMCH for this amazing accomplishment," says Naomi Kitahara, Country Representative, UNFPA Mongolia. "We are proud to have been part of this journey, along with the Governments of Luxembourg and Mongolia, and take this opportunity to reaffirm our commitment to this enduring partnership. We will continue to work with NCMCH so that all women have access to quality sexual and reproductive healthcare, including those in even the most far-flung areas in rural Mongolia and to truly ensure that no one is left behind."
Receiving the award were head of the Mongolian delegation, Dr. OyunchimegAsatsa, Head of the Quality Assurance Department, NCMCH; and accompanied by Dr. MunkhtulgaLkhagvasuren, Director of Pharmaceutics, Industry and Technology at the Ministry of Health,Mongolia; and Ms. Iliza Azyei, who heads UNFPA Mongolia's Sexual and Reproductive Health Programme. 
By: A.Esguerra