By : Lizzi Logan
Meet Ts. Sarangerel,  a former chemistry teacher who found her passion in making a positive  impact on the lives of youth, ready to help develop their life skills, including providing them guidance in issues related to relationships, gender-based violence and sexual and reproductive health.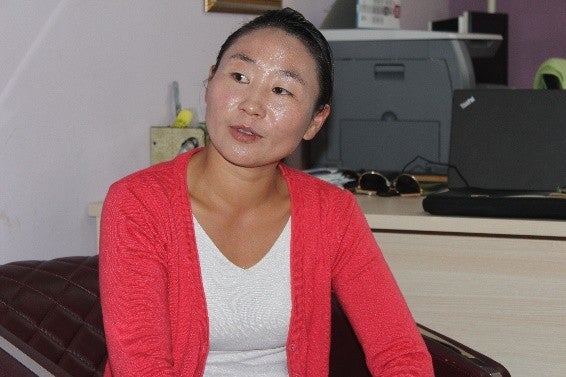 Ts.Sarangerel first heard about the UNFPA/SDC-funded Youth Development Centre in Zavkhan when she became a member of the YDC's "Support Group for Young Mothers". While attending the group, Ts.Sarangerel heard about the YDC's Youth Panel, a group of nominated young people who take a lead role in ensuring youth involvement in the operations of the YDC, proposing activities, providing feedback and acting as an advisory panel to local authorities, and soon became an active panelist. Ts.Sarangerel's great work with youth did not go unnoticed, and she was encouraged to apply for the Life Skills Education Trainer position at the YDC.
Previously a chemistry teacher at a local high school, Ts.Sarangerel discovered a passion for encouraging and motivating young people to succeed. Young people would often come to seek her advice at school on issues related to relationships, gender based violence and sexual and reproductive health. Ts.Sarangerel felt that there was a need to assist young people to gain skills in working through the challenges they were facing, "I always wanted to make an impact on youth, now I feel that my wishes are coming true".
Ts.Sarangerel begins each class by advising her students to take away the lessons that are necessary for them. This advice was invaluable to one student who had been facing issues of alcoholism in her marriage, leading to conflict. After attending the Communications lesson, one of the Life Skills modules the student told Ts.Saragerel that she had tried a new strategy with her husband by listening and hearing him talk. She relayed that after they sat, listened and talked they agreed that there was "no use fighting" and felt that the relationship had changed for the better.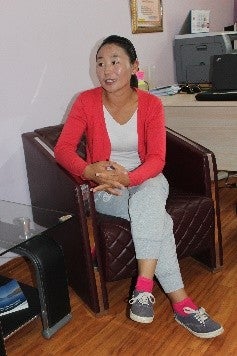 Another student, a 34-year old mother of 5 children, also experienced the benefits of Life Skills Education. Ts.Sarangerel recalls that this woman attended each and every class. When she would return home, her children would ask, "Mum, what did you learn today?" The Mother would share the lessons she took away from the Life Skills Class with all of her children. Inspired by the lessons, the woman sought and found work at the local well, pulling water. Not wanting to give up on the lessons, the woman asked her oldest son to take care of the well while she went to the YDC to complete her Life Skills Education course.
Through her students' experiences, Ts.Sarangerel's Life Skills Education Class at Zavkhan YDC demonstrates the impact that quality education can have on promoting Good Health and Wellbeing, Gender Equality, and Decent Work and Economic Growth. Life Skills Education is about learning skills to build resilience and find coping strategies in the face of social and economic challenges, to enhance employability of young people and to promote positive, responsible, and self-reliant behavior. Life Skills Education is a set of 12 psychosocial skills which equip young people with the skills to enable them to meet their full potential.
Through the Youth Development Programme, the UNFPA, the Government of Mongolia, the Swiss Agency for Development and Cooperation, the Government of Luxembourg, and Oyu Tolgoi LLC have established 16 Youth Development Centres (YDCs) throughout the country to provide young people with opportunities for training and coaching on life-skills; peer counseling; information on and services in sexual and reproductive health; and support in education, communications and psychology; all while in a fun, safe and nurturing environment. These YDCs have since reached hundreds of youth between the ages 15-35, from different circumstances and with different challenges, often in under-served communities, and have helped set them on the path to positive personal development, empowerment and advocacy. The "Young Voices" series documents their experiences and shares their stories.